Diamond Glow is a revolutionary 3-in-1 technique that provides the clarifying effects of exfoliation with simultaneous pore cleansing and the infusion of a specialized serum into the skin. The serum can be adjusted to treat your specific skin condition, whether acne, dryness, hyperpigmentation, or the signs of aging.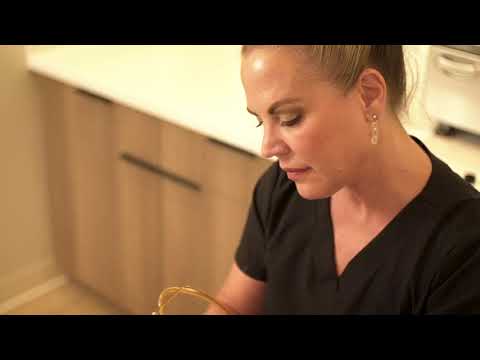 Rose Spa: Diamond Glow
Jessica, spa manager and master esthetician at The Rose Spa, discusses what Diamond Glow is and what it can do for your skin. Diamond Glow is a cross between Hydrafacial© and microdermabrasion) that exfoliates, deeply cleanses the pores, and infuses therapeutic serums into the skin.
What is Diamond Glow and How Does it Work?
The patented Diamond Glow treatment is designed to maximize the absorption of rejuvenating and healing serums into the skin directly after exfoliation. To restore your skin, the handheld exfoliating device is used, gently suctioning the skin to remove dead skin cells and clean clogged pores. This treatment is designed with the idea that timing is everything when it comes to maximizing the absorption of serums and moisture into the skin. Directly after your skin is exfoliated and your skin's natural healing abilities have been stimulated, then the serum is applied to the super-absorbent skin, for a healing boost of condition-specific skin healing nutrients.
What Should I Expect During the Procedure?
The procedure will take around half an hour and involves placing the Diamond Glow device onto the surface of your skin. As it is moved along your skin from the chin and cheeks and on to the more delicate areas around the nose and eyes, you will feel the exfoliation and extraction occurring and the serum of choice as it is infused into your skin.
What are the Benefits?
The benefits of Diamond Glow make it an easy choice as an effective facial rejuvenating treatment. Diamond Glow is fast becoming an in-demand treatment as it provides a wealth of benefits, including:
Fast, non-invasive, painless treatment
No downtime
It is condition-specific, so the needs of your skin are exactly met
Skin is left glowing and brighter
The treatment can help alleviate acne prone skin, add moisture to dry skin, and even areas of hyperpigmentation
Get brighter, healthier-looking skin with Diamond Glow by providing your skin with the exact treatment it needs. Give dry skin an extra plump and glowing allure, reduce acne and heal your skin, reduce the signs of aging or achieve a more even skin tone, all in one treatment with Diamond Glow.
Who is a Candidate?
Many people are candidates for Diamond Glow in Salt Lake City as it is perfect for all skin types and tones. Candidates are people who would like to experience:
Reduced inflammation and acne caused by infections in the skin
Increased moisture in their skin and a brighter complexion
Softer, smoother skin
Reduced appearance of hyperpigmentation
Healthier, more supple, youthful skin
The best way to find out if you are a candidate for the treatment and find out if you are a good candidate for this revolutionary skin-restoring treatment is to schedule a consultation. During your consultation, we can help you determine which serum would create the most dramatic improvements in your skin quality.
Before & After
Diamond Glow
Diamond Glow: An Excellent Alternative to Microdermabrasion.
Microdermabrasion can be too harsh for some skin types and conditions, and Diamond Glow is an excellent alternative. Microdermabrasion also addresses the top layer of skin but uses tiny particles to blast it away. With Diamond Glow, the process is gentler, a 3-step process of exfoliation, extraction, and infusion considered safe for all skin types, producing a remarkable improvement in skin quality, health, and tone. The Diamond Glow difference is:
Improves skin volume, up to 70%
Improves radiance, while refreshing and reviving tired, damaged, or dull skin
Visibly reduces the appearance of fine lines and wrinkles
Provides a lasting boost to skin quality
Stimulates natural skin renewal
What is Recovery Like Post-Treatment?
There is no recovery time associated with Diamond Glow, although it may take a few days or several treatments to achieve the optimal outcome. You can expect to leave your appointment with fresh, clean, super-hydrated, nourished skin that glows from within, fully refreshed. There may be some redness or puffiness that will abate within a very short time but should not interfere with your daily routine.
When Will I See the Results From My Diamond Glow Treatment?
You can expect to see results on the day of your treatment. Your skin will feel firmer, smoother, moisturized, and hydrated, but conditions such as acne or hyperpigmentation may take a few days for the improvements to become visible. Some skin conditions require multiple treatments before optimal results are achieved. It may be recommended that you have between four to six treatments for particular conditions, spaced about every two weeks. Your skin will appear healthier, plumper, and fresh after your Diamond Glow treatment.
Why Choose The Rose Clinic?
The Rose Clinic in Utah is helmed by Dr. Kevin Rose, a board-certified plastic surgeon with over 20 years of experience and a passion for helping people to achieve their cosmetic goals. He and his team deliver a wide range of non-surgical as well as surgical treatments to help you get closer to achieving the perfect look for your face and body. The Rose Clinic is here to help you transform your skin by getting it clear and clean with the infusion it needs to feel rejuvenated and look brilliant! If you wish to learn more, contact us today and schedule a consultation for arguably the best treatment of Diamond Glow Utah has to offer.
Rate Us
Rate Us!
Please take a moment to rate your experience
with our team.
Contact Us