Modern developments in aesthetics have brought us new technologies to treat and resolve various cosmetic issues. At our medical spa in Utah, we offer our patients a range of non-invasive treatments that produce remarkable improvements and can restore a more youthful appearance without the need to undergo a surgical procedure:
Medical spa walk through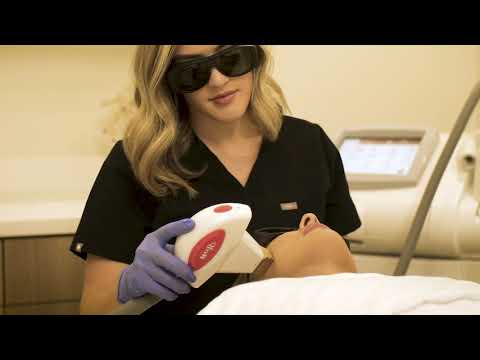 Wrinkle Relaxers
The Rose Spa offers two of the most popular wrinkle relaxers available—Botox and Jeuveau. These cosmetic injectables fall into the category of "neuromodulators," a class of injectables that relax targeted facial muscles and smoothen dynamic wrinkles. They're made from botulinum toxin, a neurotoxin protein that blocks the transmission of signals between nerve endings and muscles.
When injected into specific regions on the face, neuromodulators paralyze the targeted facial muscles responsible for your dynamic wrinkles, i.e., the wrinkles that appear on your face to communicate expressions, such as the forehead lines and laugh lines. As such, Botox smoothens the deep-set wrinkles on your face, giving you smoother and more youthful skin.
Even though the neurotoxin injectable procedure is simple, it must be performed by exceptionally skilled skincare providers. When your Botox injection is delivered by highly-skilled professionals at The Rose Spa, you can rest assured that you'll achieve natural, subtle results, with no risk of complications or the dreaded "frozen expression."
Dermal Fillers
The Rose Spa carries a wide range of dermal fillers, including Kybella, Juvederm, Volbella, Vollure, and Voluma. Dermal fillers are injectables that infuse external components into your skin to produce certain cosmetic results, such as adding volume to your cheeks, contouring your lips, hydrating your skin, smoothing the fine lines, etc.
We use the Juvederm family of dermal fillers to provide cosmetic enhancements and smoothen your skin's surface. Juvederm produces hyaluronic acid-based fillers that supplement your skin's natural HA reserves to enhance facial volume, provide lip augmentation, and fill out the fine lines and wrinkles on your skin.
Our Utah med spa also carries Kybella, a one-of-a-kind injectable that dissolves the unwanted fat tissues in your submental region, i.e., under the chin. As such, it reduces submental fullness and treats a "double chin," giving you a contoured and chiseled jawline. Our cosmetic providers choose the ideal fillers and curate the treatment plan to address your unique needs, producing natural and authentic results.
Facial Treatments
As you grow older, your face is the first region to show signs of age and environmental damage. The gradual loss of collagen and elastin, excessive exposure to sunlight, acne damage, and other forms of damage leave traces on your skin. Consequently, your face looks marked by wrinkles, fine lines, scars, acne marks, pigmented lesions, textural irregularities, and excessive skin laxity, making you look old, tired, and even sad.
The Rose Spa believes aging doesn't have to make you look old, tired, or gaunt. The advancements in cosmetic science allow us to defy age with grace. We provide exceptional facial treatments that improve your facial skin, reverse the signs of aging, and eliminate skin damage naturally. Procedures like microneedling and chemical peels activate your body's natural healing processes, facilitating collagen production and skin cell turnover to give you naturally smoother, tighter, and more youthful facial skin.
BOTOX
Treatment with BOTOX is an art and science that should only be performed by a skilled professional. There are 43 muscles in the face. The ability to pinpoint the correct spots and a gentle technique are essential to optimizing treatment. If you are considering BOTOX treatments in Utah for cosmetic benefits, you can have confidence in the technical skills, artistry, and dedication of our team. Contact our medical spa in Utah for arguably the best BOTOX Utah has to offer.
BOTOX® injections are a popular anti-aging treatment, with well-known cosmetic and medical benefits. It works quickly and effectively to improve the signs of aging, rejuvenate facial appearance, and relieve the debilitating symptoms of tension headaches.
Personalized Treatments
The Rose Spa believes that each individual is entirely unique and must be treated with entirely unique procedures. We always start our non-surgical cosmetic treatments with detailed consultations to learn more about your skin concerns, short-term expectations, long-term goals, medical history, and lifestyle. Armed with the necessary information, we personalize the ideal treatments for your immediate and long-term aesthetic health and wellness.
Rate Us
Rate Us!
Please take a moment to rate your experience
with our team.
Contact Us